MagicMount™ is the multi-awarding-winning magnetic mounting system for conveniently mounting smartphones and more. Just hover your device near the magnetic surface and it instantly locks securely in place. This cell phone car mount system is sleek and versatile. The cradle-free design uses high-powered magnets to secure your device where you use them most. Place your device at any angle for convenient viewing. On the road, at the office, at home,

 

everyWHERE.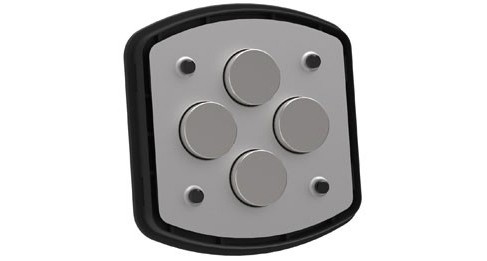 100% Safe Powerful Rare Earth Magnets
These powerful earth magnets hold your device securely in place even on the bumpiest roads and are 100% safe for Smartphones Tablets GPS and other mobile devices*.
*Does not work with iPod Classic or other hard drive devices. The strong magnetic fields produced by these Neodymium magnets is enough to damage hard drive devices.
Why Use MagicMount™
Powerful Magnets
Powerful rare-earth magnets hold your device securely in place even on the bumpiest roads.
Strong Bond, No Residue
MagicMounts use automotive grade 3M® adhesive so they will always hold strong but can also be easily removed if the time comes.
Works with Any Device
MagicMount is a versatile magnetic holder for cellphones, smartphones, tablets, GPS units, and more.
Better Design
The sleek cradle-free design works perfectly with larger devices and allows you to position your screen for optimal viewing.
Safe For Smartphones & Tablets
The high powered neodymium magnets are 100% safe and will not damage your device.
Works at Any Angle
Allows for countless viewing angles and full access to control and ports.
MAGICPLATE Placement Options
MAGICPLATE, non-magnetic, adhesive-backed, metal plates, are an integral component of the MagicMount Magnetic Mount System for mobile devices. Just apply the MagicPlate as shown to the right and you are ready to use any one of the many MagicMount products available in this growing family of magnetic mounts. MagicPlates come in a variety of sizes and shapes depending upon which MagicMount you buy and replacement kits are also available.
There are several ways to utilize/apply the MagicPlate with your mobile device.
Directly to the back of the case
Directly to the mobile device
Between the device and case (should you be using one) - either with or with out using the adhesive